I'm going to admit something that makes me feel a bit stereotypical, but I'm just going to go ahead and own it… I'm a total sucker for cheesy, highly predictable romantic comedies. I seriously love them all – When Harry Met Sally, The Princess Bride, An Affair to Remember, pretty much any Julia Roberts movie circa 2000, and the list goes on. While these types of movies rarely make it to the big screen these days, thankfully Netflix has stepped up to fill the void.
My husband Jason was out of town a few weeks ago and I decided it was time for me to get caught up on one of the latest formulaic movies. I settled on Set it Up. It premiered in 2018 and it looked SO FREAKING PREDICTABLE that I held off on watching it. What convinced me to give it a shot is the fact that the movie actually has a 92% Tomatometer rating. Not too shabby, eh?
The movie centers around two executive assistants with high powered bosses that work around the clock until they get the brilliant idea that they should (shocker) set them up!
The movie follows the young & lovely Harper Moore and Charlie Young. Harper works for Kirsten Stevens, a former journalist and now editor of an online sports journalism empire. Charlie is the assistant to Rick Otis, an over the top venture capitalist named Rick Otis.
Their big plan to setup Kirsten and Rick totally works and, well, you can pretty easily guess where the movie plot goes from there. In the very slight chance you want to check it out for yourself, I won't completely ruin it.
However, there is one cliché that the movie touches upon that actually felt like a genuine call to action worth considering.
Our leading lady, Harper, dreams of becoming a journalist herself. As she gets to know Charlie she confesses that becoming a writer is her ultimate goal in life. However, it turns out, she's never actually written anything.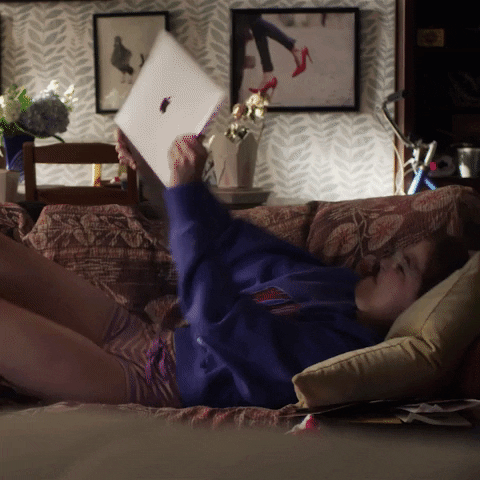 There was something about watching Harper FINALLY write her "sh*tty first draft" and take that big first step towards bringing her dream to life that gave me a "come to Jesus" moment.
While I love consulting and doing hands-on work with entrepreneurs, two of my ultimate loves are writing and speaking… and yet over the last year I've made a lot of excuses that have caused me to not prioritize them.
I have found myself going through large stretches of time where I haven't actually put out a blog post. Also, if I'm being totally honest with myself, I haven't been as proactive as I should be about going after speaking opportunities. I've been so focused on building my business, I haven't been making the time to do the work that will help me reach my ultimate goal.
Whomp, whomp.
And here's the thing. If you want to become truly great at something, the experts (and data) suggest that creating a large body of work is the quickest way to mastery.
Adam Grant's book, Originals, is a terrific resource for non-conformists that want to change the world. In one section, Grant highlights the fact that many of the greatest artists in the world created an enormous volume of work, most of which weren't celebrated. Rather, the act of developing an extensive volume of work in and of itself is what actually sets you up to create a true masterpiece. Grant points out that Shakespeare produced three of his five most popular works – Macbeth, King Lear, and Othello – in the same five-year window that he churned out two plays, which are consistently ranked his worst. Also, arguably three of the greatest classical music composers of all times, Mozart, Beethoven, and Bach, all composed more than 600 pieces in their lifetime.
Further support for this concept comes from Anne Lamont, one of my favorite writers. You should definitely check out her book with a well-deserved cult following, Bird by Bird. It's laugh-out-loud funny, poetic, and life-altering. And here's the thing… Anne goes into excruciating detail on the importance of writing often. To become the best, you have to do the hard work.
Elizabeth Gilbert, another one of my favorites, also talks at length about the importance of actually doing the work in her masterpiece, Big Magic.
So, where does that put us?
Prioritize "doing the work. "
If you want to be a writer. Write.
If you want to become a speaker. Speak.
If you want to become a photographer. Take photographs.
If you want to be a politician. Start working on your campaign.
Stop talking about what you want to do. Go out there and actually do the thing.
Will your performance always be at the level that you'd like? No, of course not. But that's not the point.
Through sheer persistence and volume, I expect that in time your ability to "do the thing" will incrementally improve and, one day, you might create something truly brilliant and you'll feel like this…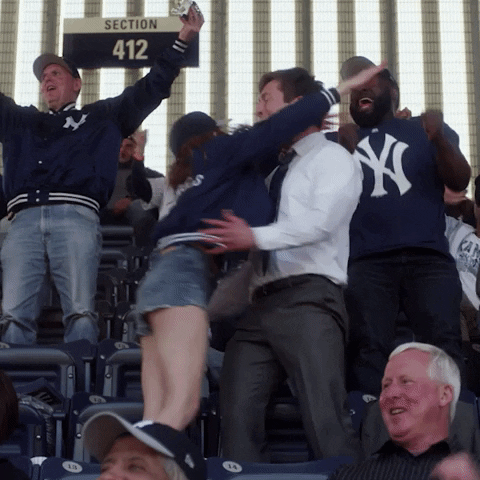 At the very least, you'll never have to wonder "What if I'd tried?"
PS – If you're also into ridiculous romantic comedies, the hilariously named Falling Inn Love is a total winner. I am also pretty obsessed with Always Be My Maybe starring Ali Wong… so much so that when I randomly saw her on the street in Durham I pretty much lost my sh*t and then took the following awkward, non-recognizable paparazzi photo… ?‍♀️